The resort has an extensive camping site with sanitary facilities, electricity and water connections, a sink and service column, a place for a bonfire and a large wooden shelter. Our campsite is covered with fluffy grass and is surrounded by tall trees. In the morning you will be woken up by the singing of birds or the sound of trees, and in the evening you can admire the constellations of the stars.
You often ask us what our camping is like and what you absolutely must bring with you when planning to come to us. Therefore, we have prepared a small camping essential for our guests.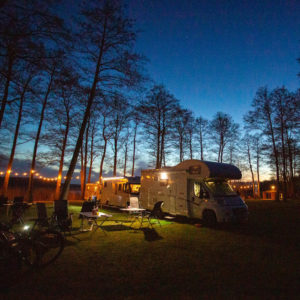 Despite such obvious things to bring, such as a tent, mattress, sleeping bag or leveling wedges (if you come to us in a trailer or camper), it is worth stocking up on plenty of garbage bags, because at the Taurus Resort we pay great attention to the segregation of garbage.
In addition, it is a good idea to bring an extension cord and a camping adapter for electricity with you. Don't worry if you don't have such an adapter, because you can also rent one from us.
Another item worth taking is a grill and a travel stove. The use of such equipment in the resort is permitted, provided that it does not burn the grass or smoke in the direction of other guests. We also encourage you to take advantage of our all-you-can-eat large stone barbecue and fire pit, with a meat grate and sausage poles.
Lighting a campfire elsewhere is strictly prohibited.
If you don't feel like cooking on vacation, you can also snack on something delicious at our bar and order lunches there for the next day.
Toilets and showers with hot water are free for our guests, but it is advisable to take a toiletries kit with you.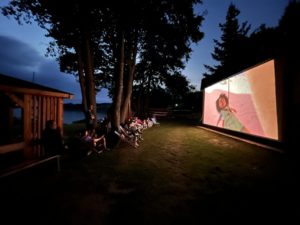 If you like to feast under your tent, camper or trailer we recommend bringing some sort of folding table and chairs. Taking a small dryer for wet items is also a good option.
Of the documents, remember the ID card and the health/vaccination booklet if you are coming with a dog. Dogs are welcome at our resort, provided they walk on a leash, are not aggressive and do not disturb the quiet of the night and general harmony. If you like to let your dog "loose," there are acres of woods, meadows and fields on the way out of the resort. We would also like to remind you that we carry out settlements in cash.
But the most important thing is that you do not forget to have a broad smile, the best humor and a super attitude, because we want the resort to have a nice, family atmosphere, and our holidaymakers to spend an unforgettable time here .